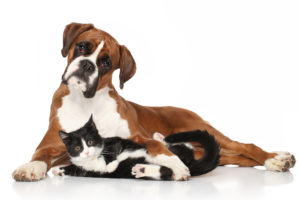 Dog & Cat Products
At Merkland we strive to cater for all your dog and cats needs, stocking a wide range of feeds for every stage of your pets life.
We stock products made from quality ingredients to provide a naturally balanced diet and promote good digestive health. This will ensure your pets from puppy's and kitten's to mature cats and working dogs will enjoy a long and active life.
Don't worry if your pet has a sensitive stomach or specific needs, our variety of products include grain free, wheat free and hypoallergenic to meet their dietary needs. We also stock a wide range of tasty and nutritious complete feeds, mixers and multipacks of pouches and tins. Should you prefer to feed your pet a more natural diet we also have a selection of balanced raw complete meals for your dog or cat. So even the fussiest of eaters will be kept fully satisfied and reach optimum health.
Also available to keep your pet in prime condition is a variety of wormers and flea control products to suit all.
We know that you like to pamper your pets. And stock a wide range of treats, toys, bedding and accessories including delicious and healthy natural treats, all you need to keep them fit and healthy.